Solar Installation Course
Industry, as well as companies that want to grow or establish in-house solar design departments.
The goal of this intensive 30 days training course is to give students an in-depth exposure to the numerous considerations involved in the design and permitting of both kilowatts and Megawatts Photovoltaic (PV) systems. Students will learn how to generate system designs and supporting documentation for solar Photovoltaic (PV) systems which includes production of plans for building permit applications and construction, specification of solar equipment and components, design of systems, and mechanical and electrical points of connection for on-grid and off-grid Photovoltaic (PV) system.
Our trainers are industry professionals with extensive real-world knowledge that is effectively relayed throughout our institute. We provide instructor-led training throughout the day over the length of the course in a distraction-free environment. Instructors are available at all times to provide individual and group attention, and ensure the students' success.

---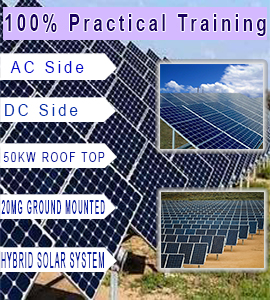 Who should attend:
Anybody who wants to gain valuable hands-on experience, especially electrical and mechanical engineers; electrical and general contractors, electrical designers, solar companies and solar industry professionals who want to further their knowledge of solar installation.

Prerequisites: Participants should have a basic understanding of solar PV or basic solar design, PV installation or related experience. Participants should also have Basic knowledge of electrical.
What time:
Weekend Batch : Saturday and Sunday
Time : 4 Hours/per day
Duration: TWO Months

Regular Batch : Monday to Friday
Time : 2 Hours/per day
Duration: Two Months

How much: The fee is Rs 25,000 per person. Fees excluding GST.

How to Register: We offer the following options to register for this class. Class size is limited, so we recommend that you register early to guarantee a seat.

1. Online - click on the Enroll Now button below and register using a credit card or check card. You will be redirected to our online payment page for a safe, secure transaction. You will receive an email confirmation when the transaction is complete.
2. By phone – simply call us at (+91)-8467024957 and we'll process your registration over the phone.

---
Syllabus of Solar power plant design Course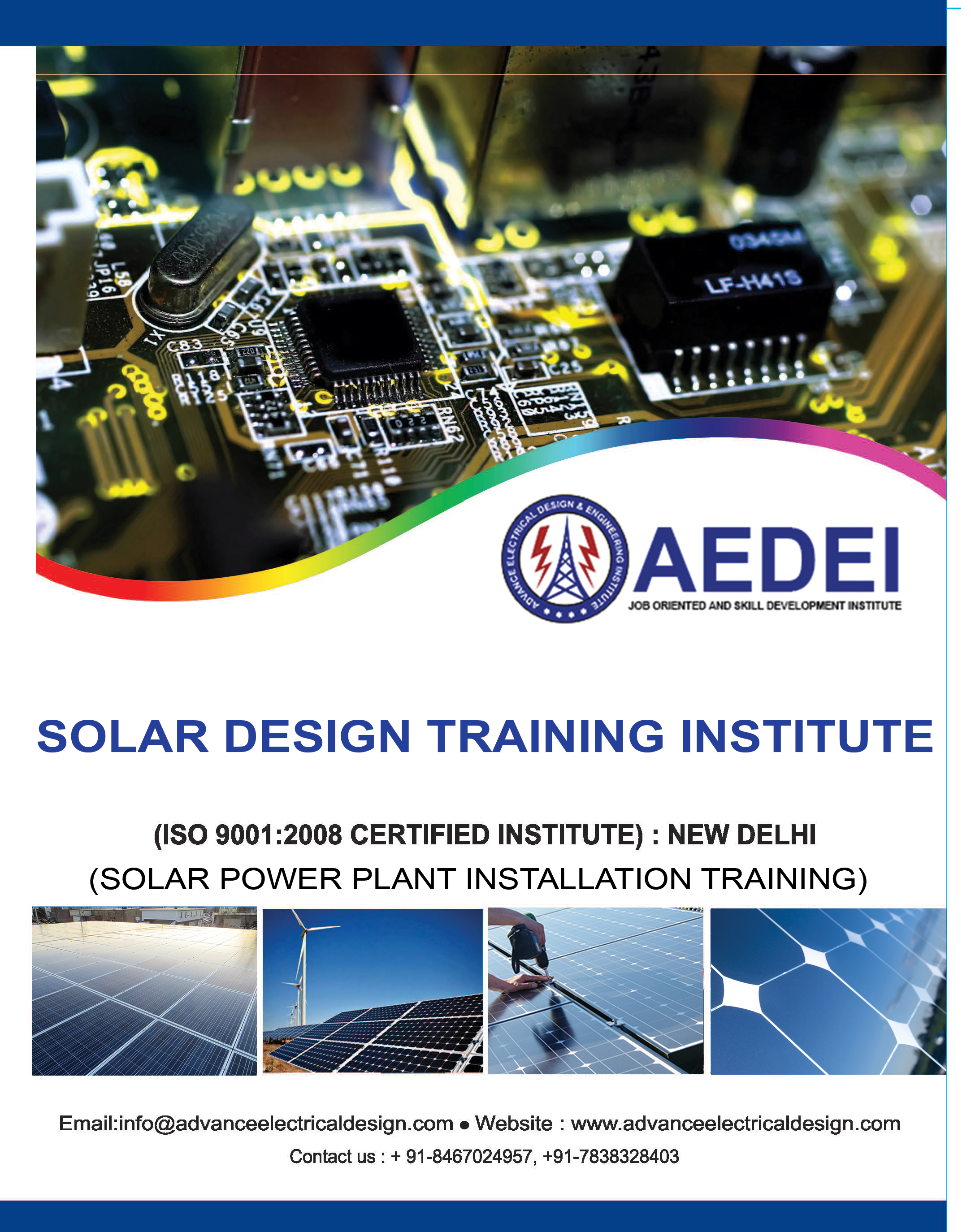 Basic Solar Power Plant

Fundamentals of Installation and Safety
Brief about PV cell technology and module characteristics
Evaluate PV array mounting considerations
PV array structural load calculations
Type of solar power plant

Testing of Equipment

PV Module Voc, Vmp Testing
PV module string wire meggering
DC power Cable testing
Module mounting structure alignment
Foundation testing
Transformer Testing
Transformer HT Panel
HT Cable testing
CT /PT testing
MMS specification

Installation and Commissioning of Solar Power Plant

Type of Utility interactive inverters and systems
Determine PV system configuration
Inverter Selection criteria
Installation of PV Module
Installation Of Inverter
Check list of Inverter and Module
Inverter installation planning
Solar power plant conducting
Solar Power Plant string Wiring
Solar power plant series –Parallel connection
PV module Mounting arrangement
PV module current shorting
String Combiner Box installation
SCB Wiring
Connection of MC4 Connector
Connection of Y connector
DC power cable installation
KW and MW inverter Installation '
ACDB installation
HT panel Installation
Transformer Testing